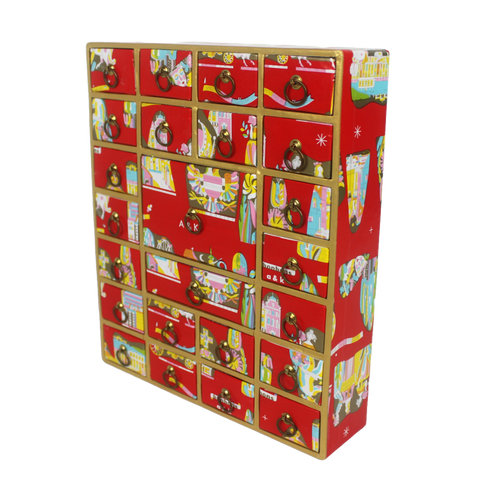 Altmann & Kühne
A&K Advent Calendar
Discover the magic of the holiday season with our exclusive Altmann & Kühne Advent Calendar in radiant red
This limited edition, meticulously handcrafted for your delight, features 24 unnumbered days leading up to Christmas – inviting you to choose a new surprise each day. Let spontaneity be your guide and create your own unique countdown experience.
Technical Details:
Type: Limited Edition Advent Calendar

Dimensions (LxWxH): 18.5 cm x 4.5 cm x 21.5 cm

Layers: 24 unnumbered, individually designed compartments

Number of Chocolates: 116 delights

Net Weight: 400g
With each opened compartment, a piece of our exquisite Liliput confections is revealed – a true celebration for the senses. And after all the treats have been savored, the calendar offers 24 miniature drawers, perfect for safeguarding your own little treasures throughout the year. This Advent calendar not only sweetens the countdown to Christmas but also becomes a lasting home for your cherished keepsakes.
Best before: 2 months
Nutritional Information
Energy, 2324 kJ / 550 kcal
Fat, 35g
- of which: Saturates, 18g
Carbohydrates, 45g
- of which: Sugars, 34g
Ingredients: sugar, marzipan, paste, cocoa butter, hazelnuts, almonds, natural and artificial flavourings, vegetable fats, edible acids, natural and artificial colouring, including AEFGH
Additional Information